Skins on Mobile Legends: Bang Bang (MLBB) is a cosmetic that does not affect skills from the players. Skins just a sweetener so that the game is not boring with effects that make you more enthusiastic about playing.
But for some people, skin in MLBB can increase their confidence when playing. Moreover, most player the public looks at the collector skin as a "God" and would normally be granted access to use hero whatever he likes.
READ ALSO:
The problem is, not all skin good available anytime at shop. A number of skin have status limited edition which only appears in events certain and has a high price because it has to go through the system gacha.
Fortunately, there are still some MLBB skins worthy to be collected and can be purchased directly through shop with top up on unipin.com as many as 899 – 1089 diamonds. Anything? Here he is MLBB skins best one can buy in shop!
1. Fanny – Lightborn Ranger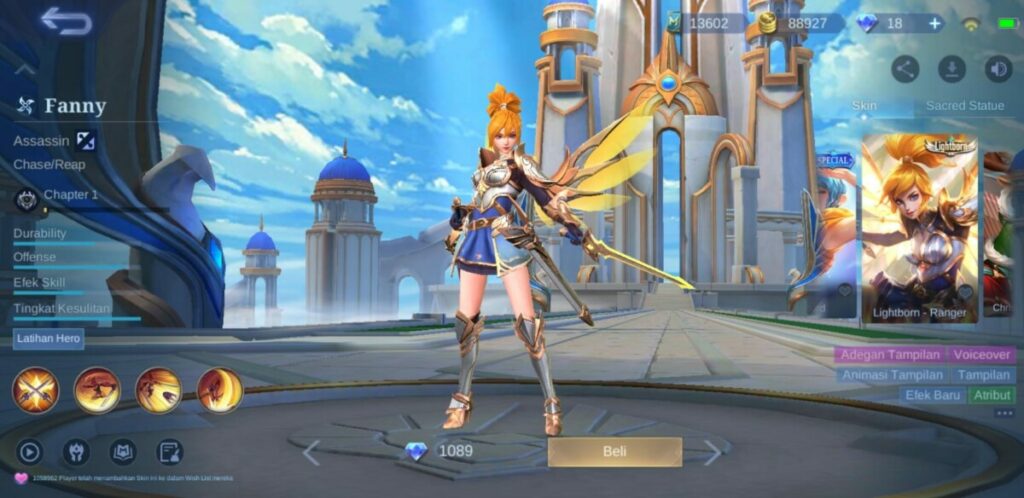 One of skin most requested viewers when you manage to carry Mobile Legends influencers: Bang Bang such as Jonathan Liandi and Eko "Oura" Julianto are Fanny – Lightborn Ranger. As one of the skin most expensive that can be bought in shop, no wonder so many request skin This is for collection.
In appearance and effect skills, skins This is indeed very good for increasing the confidence of its users. Even if you can't use Fanny, skin it's still very worthy to just show it off draft pick in order to get "honor" from teammates.
Price 1089 diamonds very comparable to the quality it has skin this series. Moreover, the Lightborn series is an exclusive series and it took Moonton a long time to present a series with a similar concept.
2. Ling – Night Shade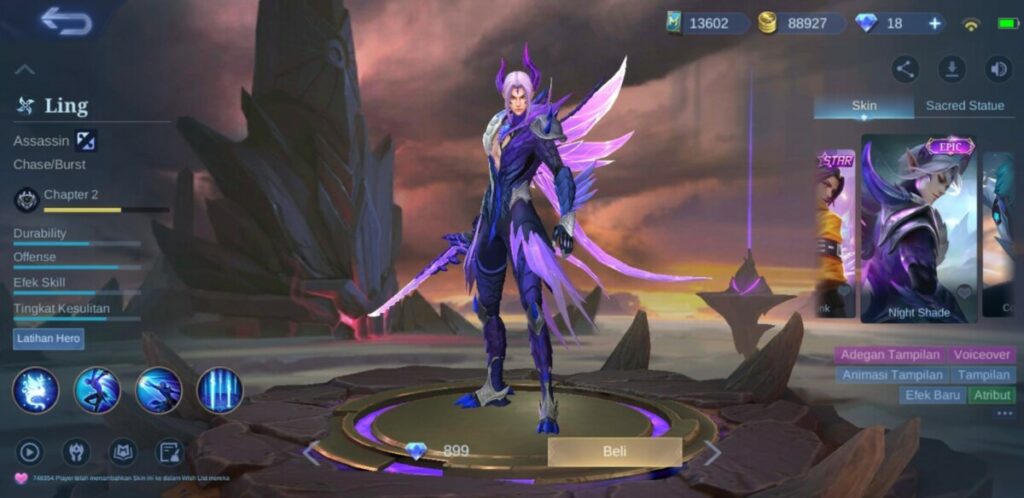 Who doesn't know RRQ Albert, one of the jungler best in pro scene Mobile Legends: Bang Bang known as the "Half Ling Man" due to his agility when using hero this. Now, skin Albert's favorite ling turned out to be for sale at shop, you know!
Yes, skin It is Ling – Night Shade also included in the Dragon Tamer series are skin which Albert often used when competing in competitive tournaments with RRQ Hoshi. Skins this can also be said as skin best of the Dragon Tamer series compared skin other.
For you guys jungler who likes to use Ling, there's no harm in pouring 899 diamonds for skin this is so that self-confidence increases like Albert.
3. Lancelot – Floral Knight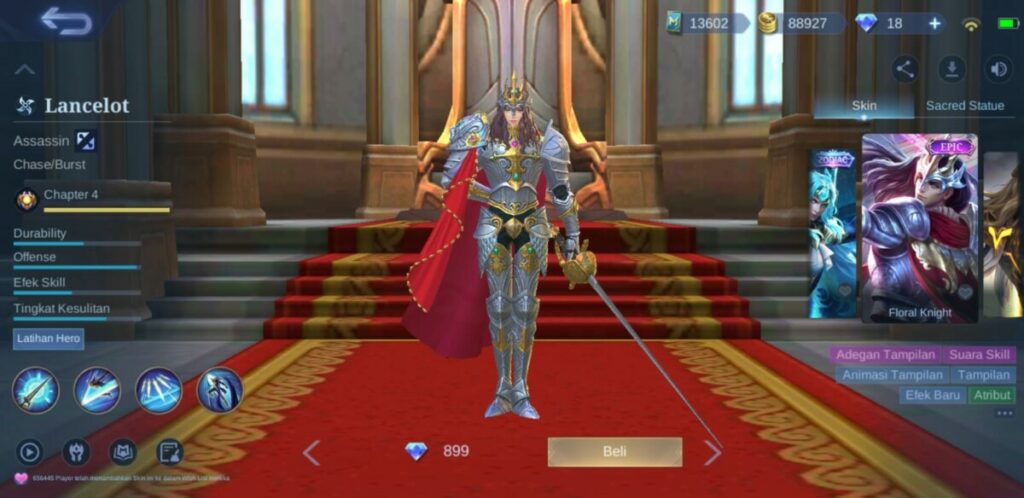 Lancelot users would know how much it hurts when skills belittled simply for not having skin the good one. Worse yet, some skin Lancelot is skins limited which can only be obtained on events certain, of course at a price that is not cheap either.
Fortunately, there skin Lancelot – Floral Knight available in shop and can be purchased at any time at a price 899 diamonds. Despite the popularity skin it still loses to skin Other Lancelots, at least your teammates will be reluctant and don't hesitate to give Lancelot for you to use as a jungler.
4. Claude – Blazing Shade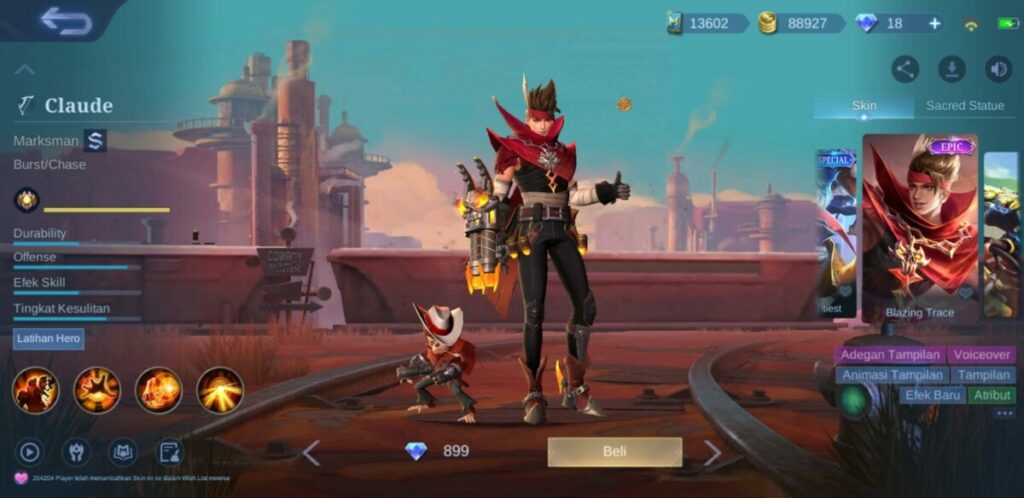 Skins the Blazing Bounties series has its own uniqueness compared to skin another series because it carries the iconic cowboy theme. One of skin worth buying is Claude – Blazing Trace which is also an icon of this series.
In addition to display and effects skin cute, skin This one Claude is skin worth buying at shop for now, considering not much Marksman skins cool available without waiting events. For you guys Gold Laneryou have nothing to lose 899 diamonds for skins this.
5. Dyroth – VENOM Cobra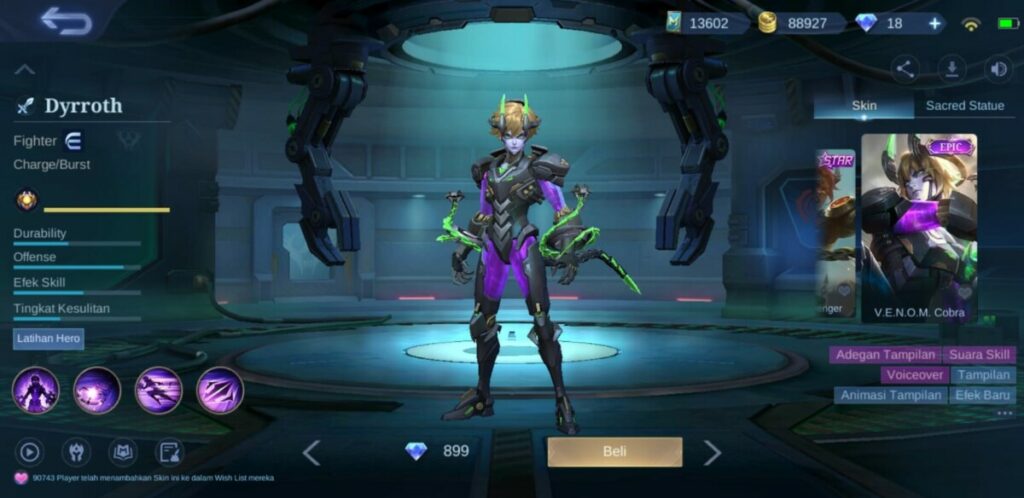 Skins the latest from the VENOM squad belongs to Dyroth. With the giant cobra theme, it's not difficult to crown it skin VENOM Cobra as skin coolest compared skin other VENOM.
Skins This is even more interesting in front of collectors because it can be bought anytime and anywhere as long as you have it 899 diamonds. Because Dyroth began to be frequentlypick as counter hero Esmeralda, VENOM Cobra could be skin option if you don't have King of Fighter skins (KoF) from hero this.
6. Grock – Codename: Rhino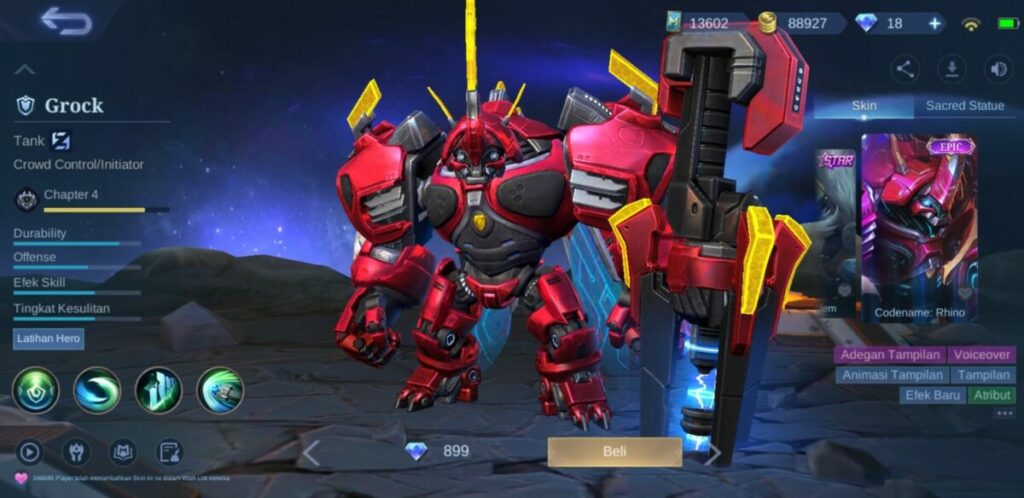 Grock is Tank who has a lot skinbutskin Codename: Rhino this looks special because it makes Grock's stature bigger, dashing, and scary. Especially skin this can be purchased anytime with just 899 diamonds.
Roamers RRQ Hoshi, Vyn, is one of the player most frequently used skin this in a competitive tournament. With Grock's entry as hero META in MLBB right now, you have nothing to lose if you ask for a hand skin this one.
7. Nana – Mecha Baby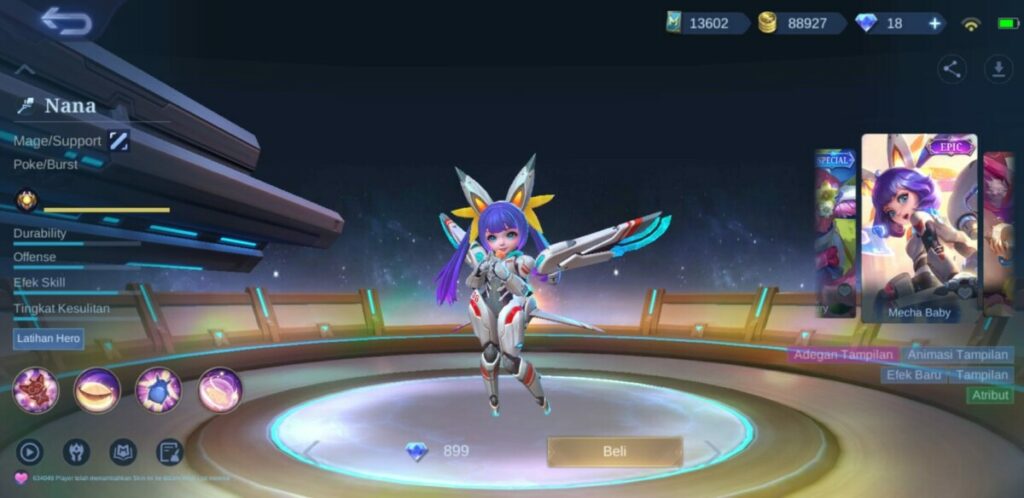 Skins Nana This one is perfect as a birthday gift for a girlfriend or female friend who plays as a Support. Moreover, the price is cheap (only 899 diamonds) will not drain your wallet just like that.
in appearance, skin Mecha Baby this is very cute with its Mecha concept. The resulting effect is also very luxurious, especially when Nana's passive turns on because the owner of Molina will take off all her armor and become a "cute kindergarten boy" who runs away from the opponent's pursuit.
is skin is this not suitable for men to wear? Oh of course it fits, as long as you don't turn on mic in-game so that no one knows you're a man, yeah!
***
That's 7 skin MLBB which can be purchased directly at shop and can be exhibited to the public player. However, keep in mind that skin can't upgrade skill-you drastically. Therefore, try to keep practicing so that skin and skills-you're equally good, huh!
Do not forget to top up diamonds only on unipin.com because only on UniPin you can get diamonds cheapest, safest, most complete, and of course fast processing. What are you waiting for, come on top up your diamonds on UniPin!
---
Get gaming news and other interesting information about the world of games, esports, movies, anime, and more only at UP Station.
For those of you who want to top-up your favorite game, you can directly visit UniPin! Fast processing and low prices!
Be sure to follow the latest developments and other gaming news on our social media accounts:
Facebook: UP Station Indonesia
YouTube: Upstation Media
Twitter: @Upstationmedia
Instagram: @upstation.media
Come join our Discord group!
Discord: UniPin Official Community