Events Necrokeep Awakening in Mobile Legends: Bang Bang (MLBB) really raised one of the legendary heroes who is also one of Lemon's favorite heroes, namely Leomord who finally got buff impersonate revamp from Moonton with build items which has beenupdates.
READ ALSO:
Leomord is one of the heroes with the lowest popularity in Season 24 MLBB. When Fighter others clash mechanics in EXP Lane or even plotted as junglerLeomord actually drowned because he was unable to compete with other heroes and became a "clown" with Faramis and Vexana.
This is because Leomord relied too much ultimate who summoned his favorite horse, Barbiel, to join him in the fight. When with Barbiel, Leomord is very kind and able to bulldoze backline opponent's. However, ultimate this has a fairly short duration and makes Leomord return to being a "clown".
That's the basic reason for Moonton to give buff to Leomord. With skills which should be quite capable, Leomord really just needs to be given a little polish to be able to compete with Fighter others, both in EXP Lane and as jungler.
To welcome Leomord's rise from the grave, here it is guide brief about Emblems, options spells, and Build Items for Leomord Revamp in MLBB UP Station version!
Emblems, Talents, and Spells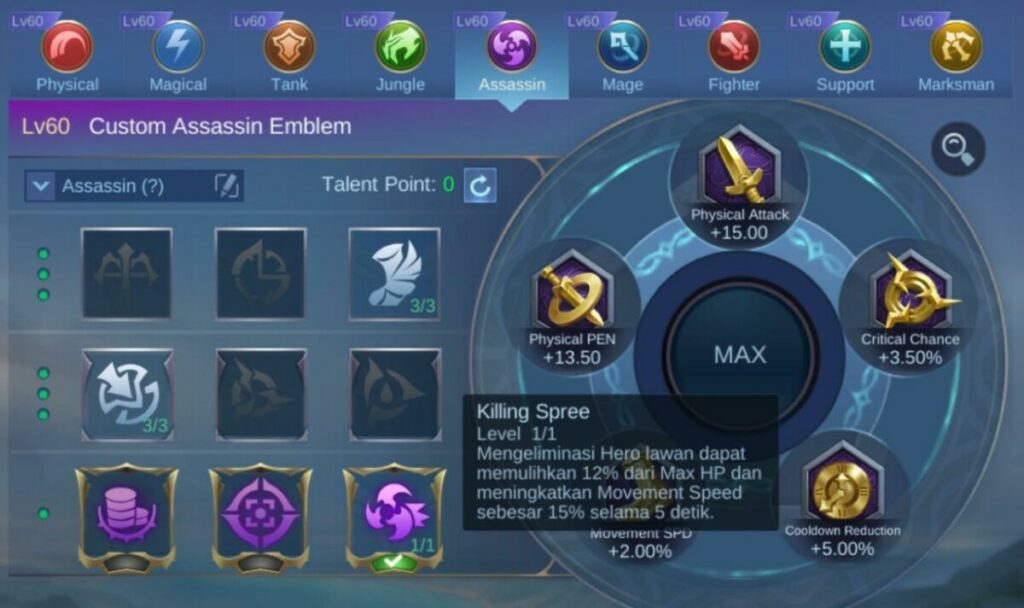 As fighterLeomord revamp actually you can use the Fighter emblem to get more sustain in the Land of Dawn. However, it will make damage Leomord is a little weaker so it's less effective in battle, moreover Leomord is a hero who needs momentum to be ultimate hers was not wasted.
Instead of sacrificing damageindeed Leomord should give the Spell Vamp task to items and use assassin emblem with Talent Killing Spree which made Leomord recover HP and increase Movement Speed when successfully eliminating the opponent's hero.
To support damageher, talent tier 1 and tier 2 used is Agility (Movement Speed) and Invasion (Physical Penetration).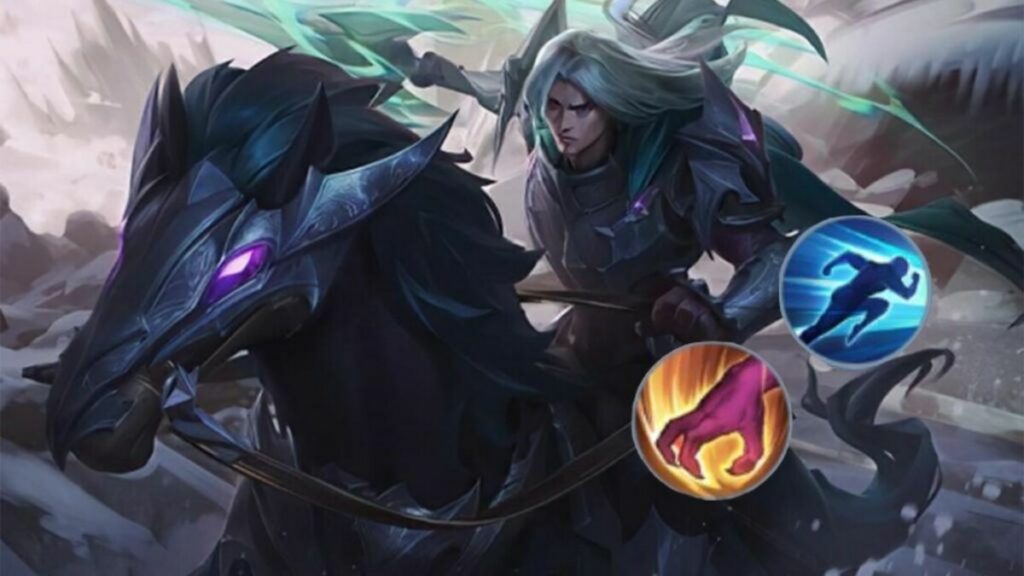 For spell best for Leomord revamp depends role given to user this hero. If plotted as jungler, spell Retribution is an absolute must for Leomord with Blessing Equipment to choose between Flame Retribution or Ice Retribution.
Whereas spell Sprint would suit Leomord revamp when plotted as EXP Laner. Sprint is indeed the prima donna in the latest META MLBB compared to Flicker and Purify because it has a new effect in the form of invulnerability slow and additional 50% Movement Speed which is perfect for Leomord revamp and his favorite horse.
Build Items Leomord Revamp MLBB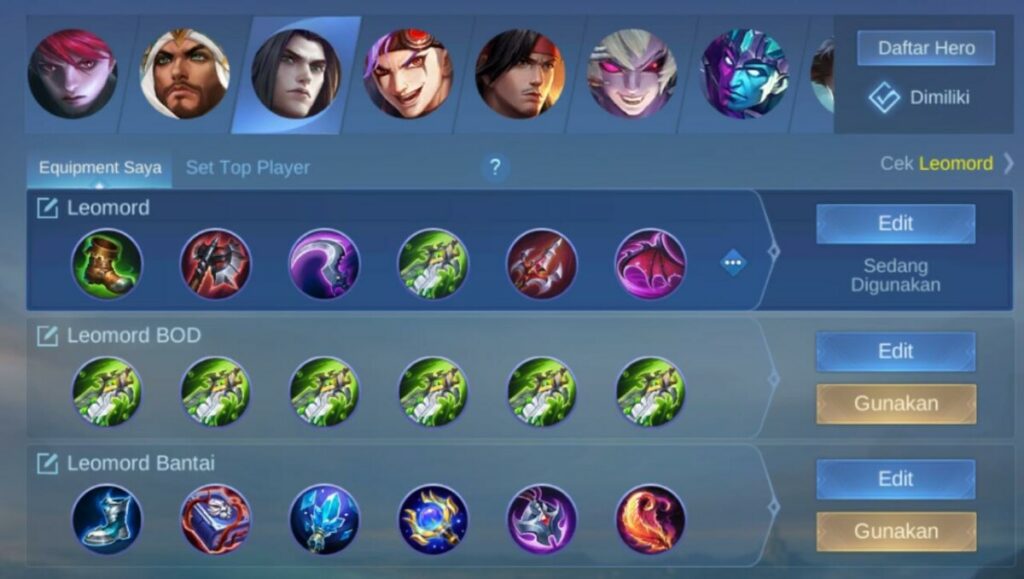 As Fighterof course Leomord revamp need items commonly used by Fighter other. However, there is one items which Lemon thinks should be bought by user Leomord whatever his condition.
here build items best for Leomord Revamp to compete in the Land of Dawn:
Warrior Boots: Items shoes that can add physical defense from Leomord di early game. If the opponent has draft hero with maximum CC, you can replace it with Tough Boots which gives extra magic defense and reduces CC duration by 30%.
Bloodlust Ax: Items mandatory for the Lemon version of Leomord. Leomord who relied so much spell vamp it will be very helpful to be present items this, good from early until late game. Additional 20% Spell Vamp for Leomord will make this hero able to compete in the lane anywhere.
Hunter Strike: Items core the second that can provide additional Movement Speed to Leomord. Items this can also be replaced with items rival, war Ax.
Blade of Despair: If you feel Leomord is lacking damage, Physical items with the most expensive price this can be a solution to overcome this. Terms of use items this is you must be superior in number gold with the opponent. If you lose gold, you can replace it with Malefic Roar which is cheaper.
Endless Battle: In addition to Bloodlust Ax, Leomord is also closely related to the existence of Endless Battle which provides many additional attributes. Items it will be useful for Leomord to defend in late game.
Queen's Wings: Defense items the most suitable for use by heroes who rely on Spell Vampincluding Leomord. Items this can provide extra Spell Vamp by 35% for 5 seconds if Leomord's HP is below 40%.
All items above can still be changed according to the conditions in the fight. You can also change one items above (except shoes if you are a jungler) with items Immortality which can provide additional life.
***
That's guide brief about emblems, choices spells, and build items from Leomord revamp to compete in Mobile Legends: Bang Bang. Revamp this of course makes the user Leomord is happy because they can finally use this hero without being insulted by his teammates.
For now, it is still unknown how strong Leomord is Revamp in competitive matches such as MPL ID or equivalent. We must be looking forward to seeing if Leomord revamp really rise from the grave or remain a clown hero as usual.
Do you have build items Leomord Revamp your own version? Write in the comments column, yes!
---
Get gaming news and other interesting information about the world of games, esports, movies, anime, and more only at UP Station.
For those of you who want to top-up your favorite game, you can directly visit UniPin! Fast processing and low prices!
Be sure to follow the latest developments and other gaming news on our social media accounts:
Facebook: UP Station Indonesia
YouTube: Upstation Media
Twitter: @Upstationmedia
Instagram: @upstation.media
Come join our Discord group!
Discord: UniPin Official Community